Customer Stories


If I close my eyes and concentrate just a little, I can still return to 1979 – the year I was first exposed to an exciting new game called chess. To this day, I can still hear those high-pitched plinks of tiny black-and-white plastic pieces being poured onto the table. I can still see the red-and-black cardboard checker-boards being unfolded. It was eighth grade, and we had a special hour in our school schedule where we took a break from the stress of classes and did something fun. It was called activity period. There were several activities we could sign up for: string art, painting-by-numbers and making rock sculptures were a few I can remember. But there was one activity that really stuck a chord with me – Chess. The thought that I could learn to play a checkers-like-game where strange pieces moved in different ways thrilled me! My the choice was obvious – Chess it was! And so began a life-long journey, attempting to master this classic game. Back then, several childhood friends and I started our understanding of the game from scratch – Jerry Hoffmann, Chuck Everett and I would play for hours. We learned how the pieces moved and the rules of checkmating the King. Nothing was more glorious or magical than the pure joy of chess during those first few weeks of activity period. We were all equally-matched too, no one knew who would win – it was truly anyone's game. Today, I imagine it would have been brutally painful for any decent player to have looked over our shoulders while we displayed all the chess-playing-stratagies our eighth-grade minds could muster. Surely an onlooker would have had a difficult time bitting their tongue and remaining silent while we proceeded to make blunder after blunder in the course of our struggle to victory. But boy, what fun days those were for us! There was nothing like it! Well, I'm no longer a 13-year-old boy floundering about and making ridiculous moves. Thirty-seven years later, I still enjoy the game with the same level of excitement that first hooked me. As a parent, I also had the wonderful experience of teaching my own son to play. We started when he was 12. (I should have started earlier). He's now 17, and dominates the game when we play. His skills are remarkable for his relative short history with the game. Having such a fondness for the game, you would think I've always had a luxury set. Actually, I've never owned a luxury set before finding Chessbazaar online just over a year ago. That's when the top of my King-piece broke – and I began to think about upgrading my set. After looking online for a few days, the Arabian Knight design seemed to call out my name. This set was not only well designed, but was about half the cost of comparable sets from other vendors. I love the flared out castle tops, that you can see through the King's ferrel, and that the Knight's mane was hand carved in beautiful detail – basically, it was all the luxury additions to the classic Staunton style that hooked me! Having played this set for a year now, I can say it has only increased my joy of playing the game. (My son doesn't know it yet, but he will soon receive one of these sets as a surprise before he heads off to college. There is always something special about time spent together between a father and his son. Usually that involves doing something that both are passionate about. With my Dad, that activity would be fishing. For others it might involve hunting or camping together, or perhaps working on a car engine. For me and my son … well … we share quality time together by simply setting up a chess board, grabbing a cup of coffee, talking about what's going on in our lives … and all while enjoying some friendly competition that involves strategic ideas with pieces dancing across squares over a timeless game – the game of chess. "Hey Justin … What are you up to right now? Do you have a little time son? How about a nice game of Chess?"
Richard Walters (USA)



I was born into a chess playing-family and my passion for the game has bred the love for beautiful chess sets. I always wanted to have one, but back in the pre-internet days, there was nothing to be had in the Philippines except the bamboo variety. I used only to draw the kind of sets I wished to own, thinking that someday I could obtain them somewhere when I would have opportunities to travel. Not long after the internet came. The world shrunk and chess sets became available, but the beautiful ones were still far beyond my reach. The sets themselves were expensive, and shipping costs to the Philippines doubled the expense. I thought owning a beautiful set, if possible, was downright impractical, until I came across Chessbazaar. Finding Chessbazaar has really been a stroke of fortune. Not only are its sets priced just half of those of other online stores, but it also ships them for free. I have acquired nearly ten sets from Chessbazaarand each of them is of high-quality and impressive workmanship, which speaks of the standard of excellence Chessbazaar commits itself to. My favorite is turning out to be my latest acquisition, theCirca 1870-1900. The Circa1870-1900 combines elegance and functionality perfectly. It doesn't come in the bare design of a Staunton set -- its rooks and king are something to behold – but neither is it too decorated and sophisticated to make handling clumsy especially in time pressure. It stands out for its robust motif, the pieces being given thick and heavy bases. My friends also love this set, and playing with it throws you back to the days of the great romantic masters - Anderssen, Zukertort, and Blackburne.
Thanks to Chessbazaar the sets that I used to draw now grace my home as my proud collection. I will always love chess because of the endless adventure, exploration and learning it brings, and I have made it a personal quest to get as good in it as I could be. For someone like me who wishes to play the game with the extra elegance and style, I will always look to Chessbazaara my source of sets and future pieces of my collection.
By: EUGENE MANLAPAO
(Bacolod City, Philippines)
I have played chess when I was in elementary school and I thought I was mediocre. There was no tactics or strategy involve while I was playing with my friends and classmates. Any victory was just luck or error made by my opponents. During that time my mom brought me a plastic chess set and I tried practicing at home. That didn't go well since no one in my family knows how to play or just wasn't interested in chess at all. I ended up playing by myself pretending I was also the opponent. Obviously that didn't work out for me since I knew what my own opponent was thinking.
Fast forward to 25 years later and my daughter recently learned how to play chess through her after school program. She showed interest and passion for it so I wanted to buy her a nice classic wooden chess set but my wife instead wanted to get something cute. After many failed searches for chess set that we could both agree on, I finally decided to abandon my wife's interest and look for Staunton style instead. I have a general idea what I was looking for but I really didn't know the details between a standard and high end chess pieces. So I began looking for online chess communities and YouTube videos which gave me a great understanding of what makes an expensive chess set. There were 2 sites that I came across, House of Staunton and Chessbazaar. After looking through the selections on both sites I decided to order from Chessbazaar because of the value and quality. Shipping and processing was quick. When I finally received my Bridle Stained Dyed Series Chess Pieces in Dyed Box Wood 4.0" King (SKU M0033), I was delighted. The pieces were exactly as described and shown in their site. I'm such a happy customer that now I'm considering ordering a high end luxury set along with a nice chess board. I currently have the vinyl tournament mat so we can bring the chess set where ever we go.
The way my daughter is currently playing reminds me of my childhood when I first learn the game. No strategy at all, just looking to eliminate the pieces. I gave her general strategy tips and also educated her on unique moves like en passant and the correct way of castling. I constantly have to remind her to keep practicing to become a great chess player like daddy and she indeed listen. She constantly request to play and I'm so happy she is so passionate about chess. Speaking about my daughter, I have to end this story short now since she is currently waiting for another game.
Kyan Man (USA)
I bought several chess sets from Chess Bazaar and they're among the finest in my collection. Besides collecting chess sets, I'm also an avid player. That's why I only collect sets in the classic Staunton style, which has become the world wide standard.
The set on the left is the largest I own. The pieces are made from box wood and ebony, are very heavily weighted and beautifully crafted. It's a real pleasure to play with them. But it's a huge set to carry, so if I visit a chess friend, I usually bring the smaller set pictured on the front right side, made in box wood and sheesham. I love the way the bridled horse is made.
The two sets in the back I bought because I love chess history, and these are reproductions of historical sets. The right one is the Russian Zagreb set, as it was used during the candidate matches in 1959. It has beautiful knights, which are very typical for a Zagreb set, and I always love my chess rooks to have six crenellations. The one on the far left is my all time favourite: the Reykjavik set. It's a reproduction of the set used during the legendary match between Bobby Fischer and Boris Spassky in their 1972 world championship match. I remember that match as if it was yesterday. Even though the pieces are made in a very traditional Staunton style, I would recognize those knights and bishops anywhere.
The service that Chess Bazaar provides is wonderful. One time I received a slightly damaged Queen, but just one e-mail was enough to receive a replacement within days. Chess Bazaar also provided three custom made pieces for an antique 19th century set which I own, and is now complete thanks to them.
Hans Walther
Netherlands
As I start writing this story, it takes back me to almost a quarter of a century. I grew up watching amateur people playing chess at nearby 'PAANWALA' shop. I was too young to understand chess by then but what I remember even today is that,
Paanwala had

a wooden pieces

(if I remember correctly, it was 3.5" King) and acrylic board (which my uncle made) with 2 ¼" square. As time passed by I began to lean towards cricket (like most of Indian Boys) and chess was cornered as a sweet memory from childhood days and it remained so until 2015 when I had to move to Bahrain for professional reasons. It was difficult to find a slot to play cricket there, given most of the time of year, it remains very hot so I had to come up with something interesting for entertainment. That's when I took out chess from

bottom

drawer of my memories and started playing it online. I was surprised to know that I could play this game fairly good and could beat my opponents. This gave me confidence and I started following it online (Youtube, professional tournaments) to

take it to next level. Though online is a good way to play chess but playing OTB is different

experience

all together

. I bought a vinyl board to carry which came with small plastic pieces (Obviously, I was looking for good pieces at

affordable

price). After

lot

of online

search

, I read about CHESSBAZAAR. I browse through the site and felt that it could be the place where I can get what I need that too in my affordable range. After

lot of deliberation and inputs from Sapna, I decided to order Staunton series 3.8" king (M0013). I just unboxed it yesterday (I was so anxious to feel the pieces in my hand that I called a day at office

a bit early  ) and I was not disappointed at all for what I received. It is a very well-crafted and double weighted pieces. I recommend CHESSBAZAAR to any chess lover as it provides premium quality chess accessories at affordable price.

By the way I am just 29 (in case you are wondering from opening line) September 20, 2016and this is my first purchase from CHESSBAZAAR but definitely not the last.
Hardik (India)
Hello, my name is Santiago and I am a chess addict! Chess has been my passion ever since a young age since I moved to Thailand 10 years ago I never had much chance to play anymore until my wife and daughters finally were able to play a game of chess. Since then I have been looking around for a good set but it is impossible to buy a decent set and board of western chess here in Thailand. So that's when I met Chess Bazaar who sells chess sets at least of the same quality as other houses like the House Of Staunton, Official Staunton etc.... at a fraction of their prices. Besides the prices, the free shipping and the support are second to none. So I started buying one and another and another and another and .... the worse part of this all it is that Thanks to Chess Bazaar I am not the only one addicted to chess in this house anymore, so I fear these sets we have ordered are not going to be the last ones. Many thanks.
Santiago ( Thailand )
It all started when I was a teenager, and there was a chess club offered at the junior high school. I attended in Long Island New York. I started to learn about chess and battle some of my classmates. It was a lot of fun. I would also play with family when we would gather together for the holidays. I drifted away from chess, one of my favorite hobbies, as I grew up and had more responsibilities in life. It wasn't till a fellow co­worker brought a chess set out at work, when there was downtime at the workplace, which is when I realized how much I missed chess, I love how it brings out the competitiveness in me. I spent a lot of time doing research and found many vendors of beautiful sets, House of Staunton, Chess Bazaar and House of Chess, are some examples. I quickly realised what beautiful higher quality products Chess Bazaar offers and how great the value and service is compared to these other vendors.
Vik and Sapna are great to deal with and are so helpful. The Chess Set allowed me to re­live my childhood and bring back memories of my youth. You earned a loyal customer by providing great customer service and amazing products. I am looking forward to my next set already. I give both the products and service a 10/10 rating.
Many Thanks, Andy
I can still remember seeing my first chess set in a store window some 68 years ago on a trip into our small rural New York town with my father and being fascinated by the little plastic figurines on the chessboard. They were, as I later learned, Staunton design chess pieces. I asked him to buy it for me, which he did and which I in fact still own. After learning how the pieces moved as explained on the instruction sheet enclosed, I taught him, and he became my first opponent.
A lifetime has passed since then, but my interest in chess has never waned. When an émigré chess Expert came to our town to be the new librarian while I was in high school and started a chess club at the library, I learned that there were more aspects to the game than just moving the pieces - such as tactics and strategy. I bought a wooden set and board shortly thereafter, the first of many I would own. I read library books about the early chess masters such as Paul Morphy and Adolf Anderssen from the mid-19th century Romantic era of chess when play was characterized by daring attacks, combinations and sacrifices and winning with style was more important than just gaining the point, and I tried to emulate their dynamic play.
Ironically the national chess federation headquarters was located in the nearby city of Newburgh, and after later joining their club I was able to play against many very strong players, including such International Champion Grandmasters as Bent Larsen, Tigran Petrosian and Maxim Dlugy in simultaneous exhibitions, even winning one such game against the 1972 U.S. Open Champion IM Norman Weinstein. I also acquired more plastic and wooden sets from their chess store and first learned about the early Jaques sets which were a significant part of chess history. To acquire one of those would become a lifelong dream. But the prices were prohibitive.
In more recent years I found out about the sellers of modern reproductions of these early masterpieces on the Internet and decided that owning one of them would be a desirable alternative. Searching this source, I located "chessbazaar" as one of the primary sellers. Learning that master restorer Alan Dewey had worked with them on a reproduction of the first 1849 Jaques set and finding its price very reasonable compared to similar sets from other vendors such as HoS, I decided to buy it. Vik and Sapna were very cooperative and helpful to me in this endeavour. I'm glad that I did, since it really captures the look and feel of the initial 1849 Jaques set, and I'm proud to own this masterpiece. It helps me to identify more directly with that early golden age of chess that I find so appealing.
Chess is and always has been an important part of my life for relaxation and intellectual stimulation as well as solace during periods of adversity. Admiring the little works of art that are my chess sets is a great source of pleasure for me. My chess history has now come full circle, since I've been the director of a chess club at the library in Durham, North Carolina for the past 7 years, for which I also produce a monthly newsletter. Chess will continue to be very important to me as the years go by, with the Jaques1849 reproduction set and future reproduction antique set purchases from "chessbazaar" as significant parts of my chess collection." - Conrad Conero (USA)
Like many people around my age, I learned to play chess in 1972; a very easy year to remember because it was the year that the Bobby Fischer and Boris Spassky match captured the World. My first chess set was rather like my first car: been through a number of uncaring owners and pretty clapped-out. One of the white pawns was from a different set and this was swapped on the board as soon as a 'good' one was captured.
I have reached an age where quality matters and is much appreciated. My car is now a Jaguar; my chess set(s) are now Chess Bazaar. My last purchase was a Folding Travel Set (SKU: D0105). As usual, it turned up in amazingly quick time, was excellently packaged, and a joy to first admire. Not that it does much travelling – I actually brought it as a variations board so that I could look at sub-variations without needing to figure out where everything was on the main board after a long complicated line. Sitting in my chess spot surrounded by such quality equipment is a wonderful place to be. Shame my chess isn't the same standard!
Kevin Gallagher (England)
Once upon a time there was an 8-10 year old poor boy who lived in a small European country. He was always very happy when he had summer-vacation because he spent it with his grandfathers and uncles who lived in a tiny dusty village, far from the noisy towns. The summer was hot, so the simple hard working peasants often went to the tavern to "clean the dust from their throat" with 1-2 (o maybe more) mugs of cold beer. His uncle did the same and every time bought the boy some cold soda. Usually the tavern was full of cigarette smoke (and sometimes drunk guys too). One day the boy saw 2 guys who were playing some game at a table. On a black-and-white wooden board there were many strange-looking wood-carved pieces. Some of them looked like Christmas tree, some looked like horse, others like some kind of bastion. The board and the pieces were very old and shabby-looking. This was the first time when the boy saw a chess set. He did not know anything about the rules of the game but he was very amazed of the game and the pieces. One night a fairy appeared in his dream and said: One day you will move to a huge, remote country and you will have your own brand new chess pieces, exactly the same like you saw in the village's tavern. The chess pieces will come from the opposite side of the world from a seller, called ........... Read Full Story
I'm 71 years old this past February 2016 and had resumed playing chess last year July after not having played for 50 years. I was delighted to see my appreciation for the game had improved tremendously. In this "new" beginning I bought some plastic sets and inexpensive small wood sets in Staunton style. Then I joined Chess.com and found the forums and learned about fine chess sets available from HOS (House Of Staunton) and CB (ChessBazaar). Wow! I chose CB because of the high quality compared to HOS and the more realistic pricing by buying directly from India. The first set I bought from CB was a 1950 Dubrovnik chess set - mainly because of my love for Bobby Fischer and the CB quality I had read about in the Chess.com forums. The set arrived in five days in Georgia USA from India. Several months later I bought my Edinburgh Upright in rosewood. This set is by every measure the most elegant set I own. Thank you CB - Tom (Georgia, USA)
I definitely remember my first contact with chess, I was about 13 years old when I saw chess board for first time and I thought: What game is this? I was excited from the first moment. I learned to play with my uncle, played many tournaments together, he was a great encourager. I thank him for teaching. " Chess is more than just a game, is an intellectual fun that has something a lot of art and science, is also a means of social and intellectual approach." - JR Capablanca. Chess pieces arrived from Chess Bazaar are very beautiful. Customer service with Chess Bazaar is top notch. Thank you very much - Peterson (Brazil)
I am a chess enthusiast in all of its many many facets, not only about the game itself, and one of these is chess set collecting. Chess occupies a very relevant place as I devote some time and thinking to it almost every day. I truly consider my customized set from Chessbazaar the most beautiful and imposing I own, along with the 1849 Staunton designed by Alan Dewey with Chessbazaar. I use my customized set to reproduce historical great grandmaster fights in history, but not for playing in any occasional game with somebody. Every time I take a close look on the pieces I bought from chessbazaar and feel them, I get amazed and so pleased about its fineness. I know I'm not a top collector and chess addict, but I believe that my collection is not bad at all, and in terms of carving and turning, weight, balance and stability and materials, altogether your chessmen aren't matched by any of my other sets. Keep it up chessbazaar! - Xavier Pedregosa García (Spain)
I must admit that I feel a great pleasure to admire these wooden chess pieces that I have received from chessbazaar. Even if people say that: when it's really beautiful it's really expensive. How wrong they are! Chessbazaar has proved it to me. Because despite my small income, I can often buy a chess set. Why! Come and have a look at chessbazaar prices for wooden chess sets...You'll understand that. For now, the gorgeous "California Chrome Staunton Series" is my favorite chess set. It has sort of a collector's item feel to it, which I thought is nice. The pieces look glorious on the board. Looks like it cost much more than what I paid.
PS: I just realize that, despite I am close 60 years old, I am demanding, very demanding, and I often act like a spoiled child. Thank you chessbazaar for providing me with these little wonders at such affordable prices. Without a doubt, for me chessbazaar has the best relation to customers on the Internet. - Hervé T. (France)

Many thanks to Vik and ChessBzaar for fueling my passion for quality Staunton style chess sets. I discovered the ChessBazaar website a few years ago while surfing the internet and have purchased many of their wonderful sets since then. Many of my sets have come from ChessBazaar's line of Reproduced Antique Chess Sets. I was really impressed with their Dubrovnik 1950 Bobby Fischer Series and have this set in many woods and colors in both their the 3.6" and 4" sizes. I am also very appreciative after consulting with Sapna that ChessBazaar was able to make custom Dubrovnik sets for me according to my specifications. Along with the Dubrovnik Series, their 1849 and 1870 reproduced antique sets are among my favorites. But recently ChesBazaar released, in cooperation with Alan Dewey, their spectacular 1935 Botvinnik Flohr Soviet 4" set in ebony and boxwood. After purchasing this historic reproduction set and getting it in my hands I was blown away by its magnificence! Each piece is simply gorgeous. The unique wide base King with its narrow stem, The queen with its large ball finial, the sleek miter-less bishop, the wide turret hefty rook, the wide collar pawn and the captivating long neck knight with its aggressive appearance and those teeth. That said, and with its historical significance, the 1935 Botvinnik Flohr set has become my most favorite set. As a serious collector, its exciting that ChessBazaar will continue offering more Reproduced Antique Sets in the future. Thanks again to Vik and his ChessBazaar team -
Mike Ladzinski (USA)
I took and chance and ordered a set of luxury chess pieces from Chessbazaar, located far away in Punjab, India. Would the set ever arrive? Would the quality of the pieces even approximate that shown in the photographs on the Chessbazaar internet site? Would a regret my purchase, and then be forced to fight with them to get my money back? A mere 3 ½ days after placing my order, it arrived! Each piece was double wrapped in foam. And what pieces! Each one was cut exactingly from very fine boxwood and ebony, and then polished to perfection. This is a stunning set! I am confident I will win more games with these pieces when my opponents are dazzled and distracted by their beauty. Thank you, Chessbazaar - James (USA)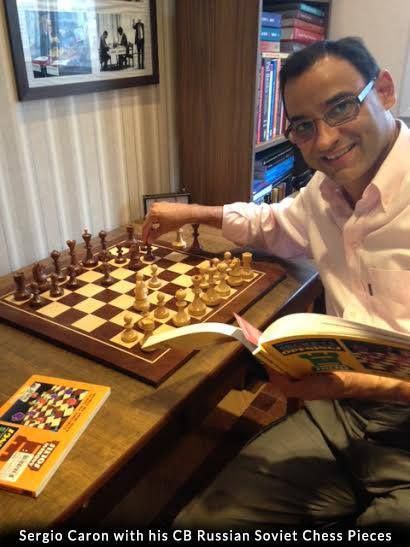 I consider myself a recurring client of ChessBazaar with more than 10 orders so far. The chess pieces are wonderful and I really appreciate the fact they have excellent options for Reproduced Antique sets - many of them not so easy to find around. I have needed to replace 3 or 4 defective pieces and ChessBazaar has always attended to it, promptly. Sapna has always been so kind and immediately provides a return for all sorts of issues that I have faced. If 5 stars is the maximum, I rate ChessBazaar at 5. Sapna is a celebrity and deserves another 5 stars for the professionalism. Each chess set, for me, causes a tremendous happiness. Although I have 30+ different chess sets, each one is very special and I appreciate CB for having so many different and outstanding reproduced/antique chess pieces (as well as some other ones). Since I started reading chess books, I usually faced some Russian Masters playing with pieces like this one in the picture - It is very nice having a reproduction of that just in front of me and in my hands! It puts more responsibility on my shoulders to play accurately, since I have "the same" type of pieces they managed to play - SERGIO (Brazil)
Mike talks about his legendary chess set! I am a retired University lecturer / manager who has been playing chess for 55 years, both correspondence and OTB. I am an enthusiastic amateur who, besides playing chess, collects Staunton sets. I have about 60 or so and am always on the lookout for new ones. I was impressed by the Dubrovnik set after a player produced one his mother gave him over 40 years ago. Bobby Fischer was right in selecting the Dubrovnik as his favourite set. Subsequently I have acquired various Dubrovnik versions, including your earliest versions. But this version 2.0 …the S1299…Is the best of them from India and the USA so far. Was 'well received' by chess club members the other evening. I look forward to receiving the boxwood and black version in a few months. Best wishes….keep up the improvements and innovations such as in the soviet sets you produce -
Mike (Australia)